Beautiful and Resilient Wood-Look Tile in Plaistow, NH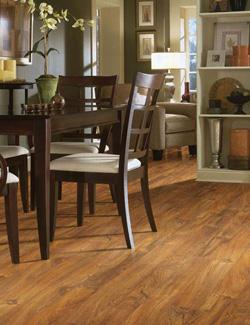 When it's time to change your interior, you never have to choose between lasting strength or impactful visual appeal. Instead, go for both! At Ed's Flooring America, you will find a stunning variety of wood-look tile. In Plaistow, NH, we help customers plan and create their ideal interiors. With our personalized approach to service and wide-ranging catalog of flooring, we turn remodeling ideas into a reality.

The Benefits of Wood-Look Tile Flooring
As its name suggests, wood-look flooring emulates the appearance and texture of solid hardwood. The key difference is that these flooring products are crafted from ceramic and porcelain. Now, it is possible to establish a natural, majestic ambiance in any room you wish.
Wood plank ceramic tile and its porcelain tile counterpart are popular because of their versatility. The firing and manufacturing processes that make this product allow it to retain its shape throughout day-to-day use. It will not warp, bend, or shrink when exposed to water. As a result, wood-look tile is a great addition in moisture-prone rooms, such as the bathroom, kitchen, or basement.
Porcelain and ceramic wood tile are designed with everyday durability and ease of use in mind. The tough, dense compositions of these floors mean they withstand regular foot traffic with ease. The solid surface and finishes on tile flooring also repel spills, dirt, and stains. With this flooring, you will spend less time and effort cleaning, and instead, do more of what you love.
A little-known benefit to wood plank porcelain tile is its indoor comfort properties. During the warmer months, ceramic and porcelain absorb ambient heat, which keeps your interior cool. Your AC won't have to work as hard, which leads to better indoor temperatures--and a lower energy bill.

Streamlining Your Re-Flooring Project
Turn your interior remodeling ideas into a reality. At our flooring showroom, you will find everything you need to transform your favorite spaces. We've teamed up with the leading manufacturers to provide an extensive catalog of ceramic and porcelain wood tile. We have flooring in a stunning variety of designs and styles. Your interior design options are virtually limitless.
The lasting beauty and strength of your new flooring rest on a successful installation. Ensure your investment lasts by counting on us to handle your installation needs. We have a trained, skilled, and experienced installation crew available for your remodeling projects. We work quickly and carefully to ensure you attain a picture-perfect interior. No job is too big or complex for us.


Contact us to learn more about our wood-look tile flooring. We proudly serve customers throughout Plaistow, NH, as well as Newton, Salem, Windham, and the surrounding area including Haverhill, MA.