Waterproof Floors in Plaistow, NH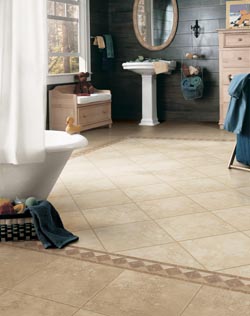 Lay the groundwork for years of family fun when you finish your next basement with waterproof floors in Plaistow, NH. Ed's Flooring America features a broad array of flooring choices that are designed with you in mind. When you decide to redecorate your entire home, you need flooring options that are both functional and appealing. Our selection of vinyl tile is a great way to go whenever you are remodeling an upstairs bathroom or the kitchen. Depending on the specific situation you face, a waterproof product may make the most sense.
Determining the right type of flooring for each room can be tricky without a design specialist in your corner. Our team takes the time to ask you the critical questions about your needs, your lifestyle, and your overall budget. We want you to have floors that can serve you well for years to come. Start a conversation about your flooring needs with a specialist that understands local homes.
Commercial customers can benefit from an investment in waterproof floors as well. Say goodbye to the worn and faded flooring you have been living with for too long, and cover your floors with resilient carpet and vinyl. In the aftermath of a catastrophic flood, you can be sure that your flooring investment will persevere. Learn more about the endurance and appeal that comes with our advanced flooring options.


Waterproof Flooring from the Brands You Trust
You don't have to choose between form and function when you decorate your home with waterproof luxury vinyl planks. When you need the warmth and character of hardwood in places with higher degrees of moisture, there is a solution. Waterproof luxury vinyl is designed to withstand the scratches and spills you can expect with an active family and much more. When a pipe bursts, you won't have to give up the flooring you have come to love.
Water-resistant vinyl flooring is the way to go with just about every bathroom in your establishment. When you need a new look for your existing business, vinyl provides you with performance and lasting beauty at a great price. Water resistance is especially important for anyone with smaller children and pets. Spills can happen at any time, so cover your floors with water-resistant carpet that looks great.


Installation Makes a Difference
The performance you realize with your new floors depends on choosing the right professional for water-resistant flooring installation. Our representative has the tools and experience needed to seal your floors properly. When a flood occurs, your waterproof tiles and planks can be recovered and reinstalled once your subfloor has been repaired.



Contact us today to learn more about the benefits that come with waterproof floors. We proudly serve customers in Plaistow, Hampstead, Newton, Salem, and Kingston, New Hampshire, and surrounding communities.