Tile Flooring in Plaistow, NH
If you're looking for an alternative to carpet or hardwood, then consider high-quality tile flooring from Ed's Flooring America in Plaistow, NH. Created with a variety of designs, moisture resistance, easy maintenance, and long-lasting durability, our tile inventory contains the ideal choice for any home. Never sacrifice beauty for functionality when you choose quality tile. Visit our spacious tile showroom in Plaistow, NH, today and explore our eclectic inventory of tile samples from earthy travertine to opulent, clean ceramics.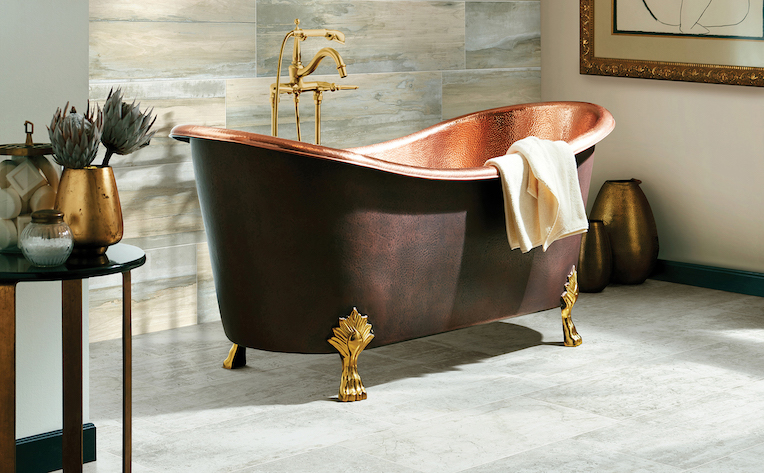 Types of Tile Flooring Available
Old, worn-out floors are unattractive and drive down the value of your property. Give your home the addition of a new tile floor, wall, or backsplash to increase its future resale value. Our showroom offers multiple flooring solutions with a variety of colors, styles, materials, patterns, and hues to choose from. No matter what you're looking for, our associates can find the perfect fit. New flooring adds appeal and charm to a home that prospective homebuyers will surely appreciate. Learn more about porcelain, ceramic, and slate tile flooring:
Porcelain Tile Flooring
Achieve a stylish and modern approach with high-density porcelain tile, which is a great choice for any room in your home. Strong enough to withstand high-traffic and outdoor areas while maintaining its visual appeal and durability, porcelain is made from kiln-fired clay with a longer firing time than ceramic. This type of flooring is extremely versatile and is available in a wide variety of colors, finishes, and textures.
Perhaps one of the porcelain's greatest features is its resistance to wear and tear. With resistance to chipping, fading, scratches, and stains, porcelain can beautify high moisture zones like kitchens and bathrooms without any visible damage.
Ceramic Tile Flooring
Choosing ceramic tile for your home means investing in a beautiful product that will shine for years. This high-quality tile type comes at an affordable price and is one of the most commonly sought tiles on the market. A tile floor made of ceramic offers a strong and durable surface that effectively resists moisture and stains. It is also easily maintained and can be cleaned by simply sweeping or dry mopping for dirt and dust.
Like porcelain, an additional benefit of ceramic tile is the hypoallergenic property of the flooring. Since there are no fibers, dust, hair, and other allergens are unable to be trapped on the floor. This tile material is also long-lasting and resistant to fire, frost, scratches, and tread wear, making it an excellent choice for your high-traffic areas.
Slate & Stone Tile Flooring
For the distinctive look of natural stone, choose slate tile for your home flooring. Each stone tile offers unique beauty in rustic earth-tone colors and natural designs. Whether you prefer bold elegance or chic sophistication, this is the perfect flooring choice for your personal style. Naturally slip-resistant and durable, our high-quality stone tile looks great not only within the home but also makes for a wonderful outdoor patio or walkway. This low-maintenance, non-absorbent tile can withstand the elements for maximum performance in outdoor use.
Wood-Look Tile Flooring
While hardwood flooring is beautiful, it is not always the best choice for high-moisture areas like the kitchen and bathroom. Wood planks tend to expand and contract when they come in contact with moisture and standing water. That's why we offer porcelain and ceramic tile with the look and feel of real wood. Through a photo-imaging process, traditional ceramic and porcelain are now able to mimic the appearance of natural wood. Cover your floors and walls with tile that provides you with the protection you need and the appeal you deserve. In the hands of a creative installation contractor, our wood-look tile is sure to make any ordinary room feel like something extraordinary.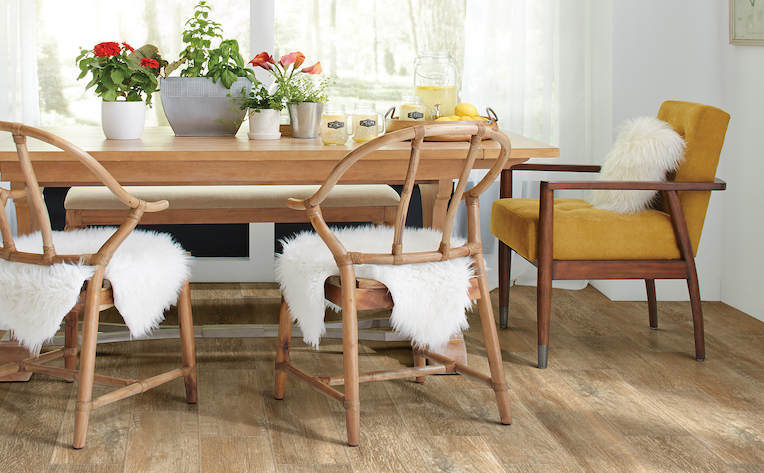 Find Tile For All Your Home Remodeling Needs
Beyond tile flooring, our local flooring store strives to bring full home renovation solutions. That's why we offer a variety of gorgeous tile products for the following types of applications:
Accent Walls
Backsplashes
Custom Mosaic Tiles
Fireplaces
Showers
Why Choose Tile for Your New Hampshire Home
As part of the Flooring America family, we have access to nationwide 500-store buying power. This means that our tile materials are sourced only from high-quality manufacturers across the nation. With customer service at the forefront of our business, you can expect to receive a truly unique level of service that is unmatched by our competitors.
Our flooring store has a wide variety of tile brands for you to choose from, including American Olean™, Daltile™, Emser Tile™, Floorcraft™, and more. Learn more about all the advantages of tile from Ed's Flooring America:
Tile flooring is extremely durable with stain, scratch, and fade resistance.
With proper care and maintenance, your new tile flooring will look fresh for years to come.
Tile is waterproof, perfect for high moisture areas of your home.
Enjoy flexibility in design for a truly unique look.
Heated flooring systems from Schluter are compatible with all our tile flooring.
This eco-friendly flooring material resists allergens like mold, mildew, and dust.
There are affordable tile options to meet your budget.
Professional Tile Flooring Installations
Enjoy a quick and easy tile flooring installation with our local Plaistow contractors. Our trained installers effectively and efficiently manage every step of the installation process, from taking accurate measurements of your space to safely removing your old flooring before installing your new tile.
Along with our superb installation, we also offer some of the best warranties in the industry. Your satisfaction is our top priority, and we do everything we can to ensure you leave our flooring store satisfied with our Adore Your Floor Guarantee. Rest easy knowing our experienced experts carefully handle your tile floor, using top-notch installation methods for exceptional results.
Contact us today or visit our showroom for more information on launching your next home remodel. We proudly serve the communities of Plaistow, Atkinson, Hampstead, Kingston, New Hampshire, as well as Haverhill, Massachusetts, and the surrounding areas.