Luxury Vinyl Tile in Plaistow, NH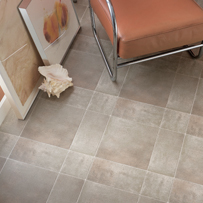 Beautify your home and improve its visual appeal by installing our luxury vinyl tile. This resilient flooring melds the elegant beauty of natural flooring materials with the versatile functionality of vinyl. When you are looking for a long-lasting, attractive flooring option that improves the aesthetic appeal and durability of your interior, stop by our store and browse our showroom's vast selection of luxury vinyl floor tile and plank flooring products.
Love the natural appearance of tile and hardwood? This type of flooring lends your property the same natural-looking aesthetic of tile and hardwood while making contemporary manufacturing methods work for you. At our flooring store, we maintain a large and diverse stock of vinyl tile and plank flooring. With so many different styles to choose from, you are sure to find an affordable product that matches the tile or hardwood floor of your dreams.
Replicate Your Favorite Surfaces with Our Resilient Flooring
Tile flooring is strong; and its different sizes allow for a wealth of customization options. With our luxury vinyl floor tile products, you get the strength of natural tile, as well as its ease of maintenance. Both vinyl tile and vinyl plank floors maintain a comfortable temperature no matter how cold it is.
Luxury vinyl tile, also known as "LVT," is made out of several layers that provide comfort, protection, and durability. The top layer, known as the mil layer or wear, is often coated with urethane for extra protection. This helps makes the tile resistant to stains, scuffs, indentations, and scratches. Homes with small children and pets benefit from a luxury vinyl tile installation. The composite construction of this product allows it to resist the effects of warping, yellowing, and chipping.
We carry products from trusted vinyl brands that have proven to be durable. Products from each of the brands we carry in our showroom are fashionable, resilient, and provide warmth underfoot. Your luxury vinyl floor tile or plank flooring will retain a new appearance for many years after installation. We have a wide selection of brands to choose from, including:
Armstrong®
Core Elements™
Downs®
Floorcraft™
Heart and Home™
HomeCraft™
Mannington®
Naturcor™
PurSTONE™
Spotlight Values™
Maintaining your luxury vinyl floor tile is easier than ever. This resilient flooring material is almost completely waterproof, so it is not in danger of moisture damage. Vinyl's waterproof properties make it perfect for kitchens and bathrooms, but it also works great all throughout the home. Most of the brands we sell at our store also feature a protective top layer that protects the flooring from scratches, dents, and stains.
If your kids or pets make a mess on your floors, there is no need to worry. Cleaning this type of flooring is very easy. We recommend mopping the area with clean water and a diluted floor cleaner. Avoid using harsh cleaning materials. You can also clean luxury vinyl with a broom or vacuum.
This resilient flooring does not hold onto dust, dirt, or dander, making it a hypoallergenic flooring option. If you, or a family member, suffer from allergies or asthma, consider investing in luxury vinyl tile or plank flooring.
Perhaps one of LVT's most attractive features is its ability to replicate the high-end look of other flooring materials. Whether you want to add an elegant look with marble or a classic look with hardwood, you can create the floors that match your style. Our showroom boasts a large selection of luxury vinyl plank flooring. Choose a grain and texture that matches your favorite species of wood, including oak, red oak, pine, walnut, and maple. Your choices don't stop at hardwood and tile though. Mimic other flooring materials, including parquet, marble, limestone, slate, and travertine.
Anyone who visits your home will have a hard time telling the difference between your floors and the actual, natural materials. Thanks to advancements in 3D technology and manufacturing, it is often difficult to distinguish hardwood from LVT. The texture of natural stone and grain patterns of wood is embossed for a seamless look.
When you want the appearance of your favorite high-end floor, install vinyl plank floors. Luxury vinyl tile and plank flooring are sensible flooring options for virtually any room in your property. Our store carries a diverse array of luxury vinyl plank flooring products, which allow you to easily find a match for any wood species or stain.
Luxury Vinyl Tile Installation Available through Our Store
Let us handle your luxury vinyl tile installation project. Our store's team of professional craftsmen is qualified to install all of the luxury vinyl products safely and efficiently. Allowing someone who has little experience installing your new floors can be costly if it is done incorrectly. Our flooring specialists have the experience and training to install your new floors without damaging the bare floors.
Our store also offers several guarantees and warranties to help you feel more comfortable about your purchase from our local store. The following are three different warranties and guarantees we offer for select products:
Confidence Plus Warranty – If you're not happy with your 4 or 5 Star rated floor after living on it for 30 days, return it and we'll replace it for you free of charge.
Price Protection Guarantee – We'll refund the difference of your purchase if you find a lower price on an item of the same brand and style from a competitor. This guarantee is only valid within 30 days of your purchase.
Life Installation Guarantee – We have the utmost confidence in our professionals and in our work. However, if you ever have installation-related issues, we'll repair the issues out of our own pocket.

Contact us to see our wide selection of luxury vinyl tile. We proudly serve the customers of Plaistow, Haverhill, MA, Atkinson, Hampstead, and Kingston, New Hampshire, as well as the surrounding communities.