Luxury Vinyl Flooring in Plaistow, NH
When the time comes for a flooring upgrade in your home or commercial space, price, functionality, and fashion are all make-or-break factors to consider. Never sacrifice quality or style when you can have it all with our selection of luxury vinyl flooring at Ed's Flooring America. Our spacious local flooring store features a large inventory of luxury vinyl tiles or luxury vinyl planks to match your unique needs. Visit our Plaistow, New Hampshire, showroom today to browse our luxury vinyl products and inquire about our professional installations!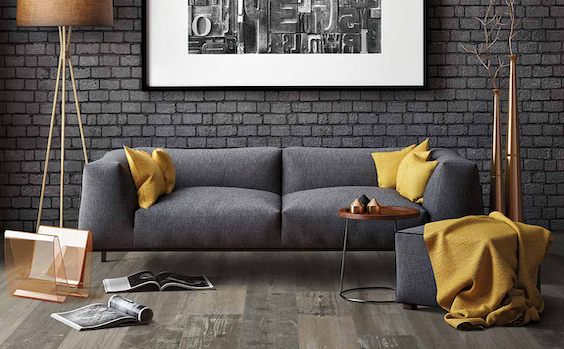 Types of Luxury Vinyl Floors: LVT, LVP & Sheet Vinyl
Thanks to our national 500-store buying power, Ed's Flooring America only sells industry-leading luxury vinyl brands including Tarcet, Happy Floors, Shaw, Mohawk, Coretec, and more. All of these options are manufactured to meet the demands of our customers for appearance and performance.
Our LVT and LVP flooring solutions are available at a fraction of the cost of traditional hardwood and tile while offering the same vibrancy and chic appearance to any room. Get started by evaluating the key differences between our tile, plank, and sheet vinyl options:
Luxury Vinyl Tile (LVT)
Classic looks such as ceramic, porcelain, and stone are popular LVT floor covering choices. Our showroom provides luxury vinyl tile in a variety of hues that replicate tile or stone, whether you want the sophistication of ceramic, the modern appeal of tile, or the rustic charm of slate. Typically cut in squares, our LVT inventory also includes wood-look vinyl tiles.
Luxury Vinyl Plank (LVP)
What looks like hardwood, resists water, withstands heavy foot traffic, and is wallet-friendly? Luxury vinyl plank has all the qualities to accurately replicate oak, birch, maple, mahogany, and many more species. Gentle underfoot with noise-blocking qualities, our LVP arrives in planks just like traditional hardwood. Never fear warping or water damage with our waterproof luxury vinyl planks.
Sheet Vinyl Flooring
Traditional vinyl flooring comes in one continuous sheet that is cut to fit the exact measurements of your space. This offers an extremely durable and water-tight flooring solution that works well in areas where moisture is a concern, such as kitchens, bathrooms, laundry rooms, entryways, mud rooms, and more. Our sheet vinyl flooring comes in a variety of patterns, colors, and styles that will enhance your interior design.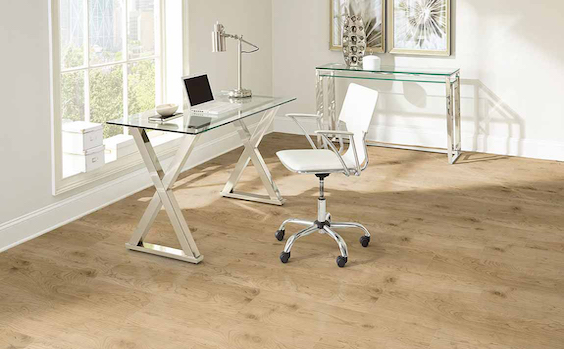 Benefits of Luxury Vinyl Flooring For Your NH Home
Modern manufacturing techniques have made luxury vinyl flooring more versatile and appealing than ever before. Our luxury vinyl choices are dense with thick layers complete with a sealed decorative and wear layer to block moisture, allergens, dirt, and debris. This way, you receive a variety of performance and style benefits, including:
Gorgeous Design: Thanks to modern 3D printing techniques, vinyl flooring can now mimic the look and feel of any real ceramic, stone, or wood species. Replicate the warmth of maple or mahogany woods or the sleek shine of ceramic and stone tiles.
Affordable: Vinyl has been a cost-effective and dependable flooring solution for decades. Not you can get the gorgeous style you love at a price you can afford.
Waterproof: With our exclusive waterproof flooring offerings, Ed's Flooring America is happy to provide superior flooring solutions you can trust to withstand any spills or mishaps.
Kid and Pet Friendly: Put your mind at ease with the knowledge that your furry companion or child will have a comfortable surface to walk and play on while your luxury vinyl will exceed performance expectations.
Repels Allergens: Our customers who struggle with seasonal allergies will also find relief as our luxury vinyl naturally blocks dander, pollens, and other microbes.
Built to Last: Luxury vinyl is built tough, withstanding heavy foot traffic and daily use for decades.
Simple Maintenance: Even the busiest households that host plenty of guests can easily maintain the cleanliness of their new vinyl floor. No special polishes or professional cleanings are required!
Maximum Comfort & Durability: Our luxury vinyl is incredibly durable and soft underfoot, capable of providing the same strength as hardwood or tile while resisting scratches, stains, heat, and water damage.
Easy Vinyl Flooring Selection with Our Local Experts
Our local flooring store offers everything from luxury vinyl tile to plank and sheet vinyl floor coverings, but where we really shine is our attentive service. Our sales and design team members are eager to assist you with product selection, custom home measurements, and even final installation! Our in-store associates are armed with product knowledge and design training, making the process smooth and enjoyable from start to finish.
Ed's Flooring America is pleased to be the leading flooring provider for the Plaistow area! Visit our showroom to begin exploring the possibilities that await your next home remodel.
Professional Luxury Vinyl Flooring Installations Available
Once you've decided on your new flooring type, make an appointment with our team of experts for luxury vinyl flooring installation. We remove your old flooring, prepare the subfloor, and install your new flooring using the correct tools and processes, ensuring that it looks and functions well for many years. We also offer our Adore Your Floor Guarantee which promises that we will take care of any installation issues that are unlikely to arise at our own expense.
Our professionals will visit at a time that is most suitable for you and will arrive with cutting-edge equipment to ensure that your new floor is installed correctly. Never stress over a self-attempted install job. With years of experience with all our flooring types, Ed's Flooring America has your luxury vinyl flooring installation covered!
Contact us today to start your luxury vinyl flooring renovation! We proudly serve customers in Plaistow, Kingston, Hampstead, NH, and Haverhill, MA, as well as the surrounding areas.