Laminate Flooring Offers Authentic Beauty & Strength
Laminate Flooring in Plaistow, NH
Save money and install beautiful laminate floors in your home! At Ed's Flooring America, you'll discover that our selection of laminate flooring is extensive and meets every style and functional need. At our showroom in Plaistow, NH, we have a large laminate selection in many different colors, styles, and designs. Let our flooring experts help you find the perfect laminate product to match the style of your home and suit your aesthetic preferences. After that, our laminate flooring installation professional can quickly and accurately install your new floor. Visit us today to browse our laminate flooring options and discuss your project with our knowledgeable team!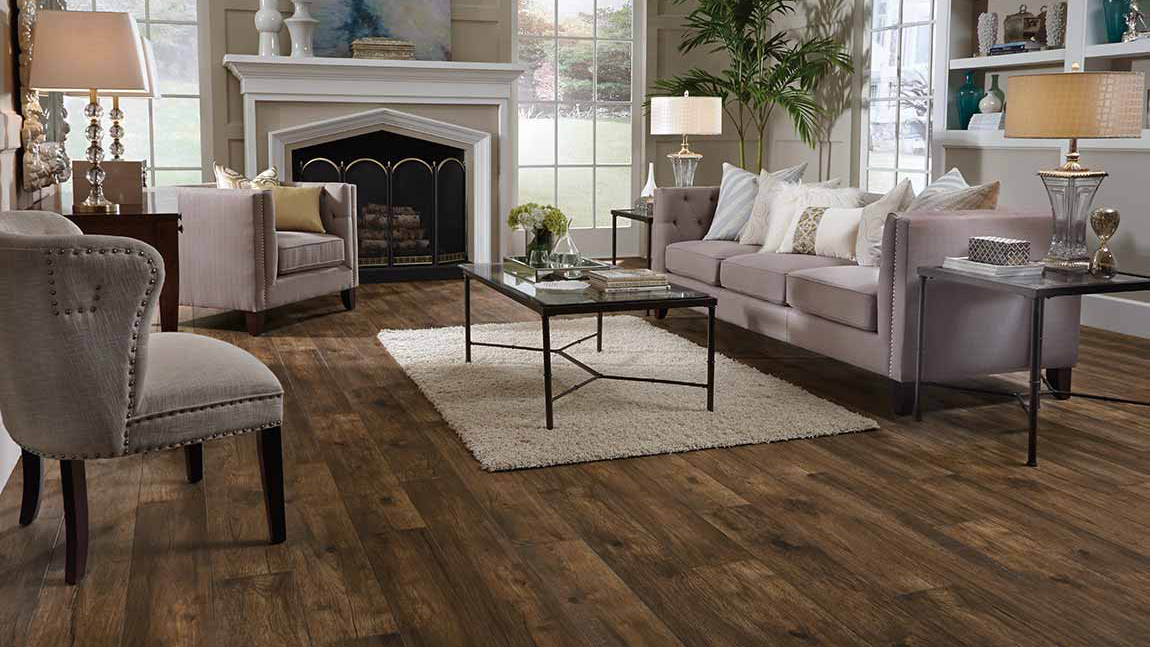 Types of Laminate
Laminate floors add convenience, cost efficiency, and beauty to any home. All of these factors are made possible by a unique manufacturing process. Laminate is made by fusing four essential layers into one. The core layer of wood and fiberboard is compressed under high heat to provide stability in high-traffic areas. The image layer enables you to mimic any pattern or image you'd like. The back of laminate flooring has a moisture-resistant layer and an invisible resin sealer that protects against scratching as well as other forms of wear and tear. We proudly carry two types of laminate - laminate wood flooring and laminate tile flooring. Whichever you choose, both tile-look flooring and wood-look flooring are ideal choices you will love for years to come. Learn more about the laminate flooring styles:
Laminate Wood Flooring

: If you dream of beautiful oak floors but your lifestyle and budget are incompatible, wood laminate flooring is the perfect substitute. This flooring combines the look and feel of natural wood with all the benefits of laminate flooring.

Laminate Tile Flooring:

While traditional tile flooring is an elegant addition to any project, many customers find tile laminate flooring better meets their budget and functional needs. Tile laminate is a popular choice for bathrooms, offering the tile aesthetic with a waterproof & scratch-proof seal.
Benefits of Laminate Flooring
We carry industry favorite laminate brands, including Floorcraft, Mannington, Mohawk, Shaw, and many more. These well-loved brands have earned their place as favorites by providing some of the highest quality and cost-effective flooring in the industry time after time. Our flooring specialists are always happy to discuss the benefits of each brand with you. Tell us about your home, personal tastes, and your family's lifestyle, and we'll help you find your perfect laminate flooring. No matter which type you choose, here are the benefits laminate flooring offers:
Manufactured to be highly

durable and resilient.
Hygienic

and easy to keep clean.

Realistically mimics

hardwood and tile.

Scratch and

water-resistant

.

Affordable

and less expensive than its traditional alternatives.

Comes in a

variety of styles and colors

.

How to Maintain Laminate Floors
When it comes to cleaning and maintenance, a laminate floor is quick and easy. Most spills and messes can be easily wiped away with a damp mop or cloth. Give your laminate floor a quick sweep or vacuum if you notice any dirt or debris building up. It's as simple as that - no special polishes, waxes, or expensive products necessary when you invest in this hassle-free flooring. Easily protect your flooring so it lasts for years. You can also keep your laminate in pristine condition with these helpful tips:
Wipe up spills as soon as they occur.

Place a mat at the front and back doors to collect dirt

Use floor protectors under the legs of couches, tables, and chairs to ease the weight.

Pick up furniture that needs to be moved, instead of sliding it across the floor.

Make sure your pets' nails are trimmed.
Professional Laminate Flooring Installation
Count on our professionals for fast and easy laminate flooring installation. Using a click-lock system, these floors make installation quick to complete for our specialists. The tongue-and-groove installation method allows the laminate to be assembled like a puzzle, greatly increasing the speed and accuracy of the installation process and leaving your floor smooth. Professional installation makes your new laminate floors look exquisite for many years. We back every laminate flooring installation with our Ultimate Confidence Guarantee. If you're not happy with your laminate floors for any reason within 30 days of installation, we'll replace them with any floor of equal value.



Contact us to learn more about our laminate flooring selection and services. We proudly serve Plaistow, Atkinson, Hampstead, Kingston, Danville, and the surrounding areas in New Hampshire, as well as Haverhill, MA.