Beautiful Kitchen Backsplashes in Plaistow, NH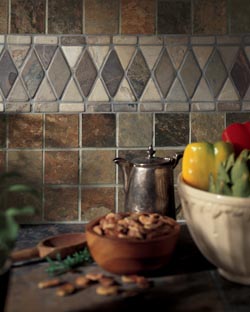 Enhance the look and feel of your kitchen décor at home with our durable and affordable kitchen backsplashes in Plaistow, NH. You can now discover a wide range of options for tile backsplashes when you visit Ed's Flooring America.
Let the friendly and knowledgeable team of tile experts at our showroom help you choose the most appropriate marble or stone backsplashes for your kitchen. We can show you the versatile uses of adding a backsplash--from covering wall gaps to giving your kitchen a more finished look. Rely on us to answer any of the questions you have about choosing from any of our stunning backsplash options.
At our flooring showroom, you can complete the décor of your entire kitchen with our distinctive backsplashes. Whether you want the classic look of marble backsplashes or you simply want to add some new stone tile to complement your new granite countertops, we have the materials and resources you need to plan and carry out a successful remodeling project. Once you have chosen the best match for your home, don't forget to schedule an appointment with our professionals for backsplash installation services.


Your Local Destination for Marble Backsplashes
Combining durability and beauty, our marble backsplashes can make your kitchen the showcase of your entire home. When you enter our flooring store, make sure to ask our friendly sales team to show you the different marble options that we have in stock. We keep several displays on hand so that you can place your hands on the marble backsplashes and imagine how they would look in your kitchen environment.
The Advantages of New Backsplashes
New tile backsplashes are a smart investment for your interior. They go on your walls to create a decorative accent to any room. The perfect complement to tile flooring, backsplashes add elements of strength and beauty to kitchens and bathrooms. Backsplashes can improve an interior in a variety of ways, such as:
Strengthen Existing Surfaces: Areas like the kitchen and bathroom deal with running water. Water can damage paint and make it appear worn or splotchy. Ceramic and marble backsplashes are waterproof, which means they will protect walls near sinks and stovetops from spills and grease spatter.
Improve Interior Design: Don't let a bare wall define the overall ambiance of your most-frequented spaces. Tile backsplashes are available in different colors and designs. You may mix and match different tile to create a distinctive look for the kitchen or bathroom.
Ease of Maintenance: A paint job that has been ruined by water or grease requires the entire section to be stripped, primed, and re-painted. Backsplashes are easy to clean. Most stains wipe away with a cleaning solution and cloth.
Adding Tile Backsplashes to Your Kitchen
Whether you want to install new ceramic tile backsplashes in the break room at your office or you want to make a bold statement with stone backsplashes in your kitchen, you can find the materials that you need at our flooring store. We have something to take care of every specific need, and we carry a large variety of tiles in several price points. You can purchase the right tile for your desires without breaking your remodeling and renovation budget.
Do you have remodeling ideas but aren't sure how to realize them? Don't worry--we're here to help. Our showroom staff is knowledgeable about remodeling. You are welcome to arrange a free consultation, where we will discuss your project plans and put them into action.
Our team members stay up-to-date with the latest developments in remodeling and backsplashes. We'll talk about your ideas, your project goals, and then make smart recommendations based on your preferences.
Enjoy industry-leading assistance with a versatile product catalog. We have teamed up with the well-known manufacturers and brands to offer a wide selection of products at one convenient location. At our remodeling center, you may view samples of different tile backsplashes, order your favorites, and set the tone for a successful project.
Affordable Backsplash Installation Services
Of course, we do more than sell remodeling materials: we are also experienced backsplash installers. Make an appointment with our backsplash installation team and let us take care of the installation for you. We work according to your schedule and make sure that you attain new surfaces for your walls as quickly--and conveniently--as possible.
Are you planning on replacing the flooring and wall accents of your kitchen or bathroom at once? Let us realize your plans for an ideal space. Our installers are also available to install new flooring. You may supplement your bathroom or kitchen backsplash installation services by requesting a re-flooring project, too. Hands down, we make remodeling a simple and stress-free experience.