Kitchen Backsplashes in Plaistow, NH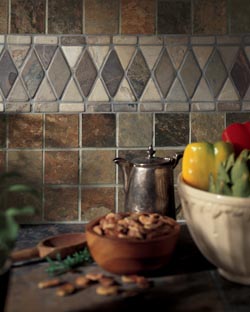 Enhance the look and feel of your kitchen décor at home with our durable and affordable kitchen backsplashes. You can now discover a wide range of options for tile backsplashes when you visit our flooring superstore.
Let the friendly and knowledgeable team of tile experts at our showroom help you choose the most appropriate marble or stone backsplashes for your kitchen. We can show you the versatile uses of adding a backsplash—from covering wall gaps to giving your kitchen a more finished look. Rely on us to answer any of the questions you have about choosing from any of our stunning backsplash options.
At our flooring superstore, you can complete the décor of your entire kitchen with our distinctive backsplashes. Whether you want the classic look of marble backsplashes or you simply want to add some new stone tile to complement your new granite countertops, we are in the business of improving the appearance of kitchens throughout the area. Once you have chosen the best match for your home, don't forget to schedule an appointment with us for professional backsplash installation services.


Adding Stone Backsplashes to Your Kitchen
Whether you want to install new ceramic tile backsplashes in the break room at your office or you want to make a bold statement with stone backsplashes in your kitchen, you can find the tile backsplashes that you need at our flooring store. We have something to take care of every specific need, and we carry a large variety of tiles in several price points. You can purchase the right tile for your desires without breaking your remodeling and renovation budget.


Your Local Destination for Marble Backsplashes
Combining durability and beauty, our marble backsplashes can make your kitchen the showcase of your entire home. When you enter our flooring store, make sure to ask our friendly sales team to show you the different marble options that we have in stock. We keep several displays on hand so that you can place your hands on the marble backsplashes and imagine how they look in a kitchen environment.


Affordable Backsplash Installation Services
Make an appointment with our backsplash installation team and let us take care of the installation for you. We work around your busy schedule and make sure that we disrupt your daily routine as little as possible.

Contact our flooring company for more information about our tile backsplashes. We sell and install marble and stone backsplashes for clients in St. Paul, Minneapolis, Maplewood, Woodbury, and Cottage Grove, MN, as well as the surrounding Twin Cities area.