Hardwood Flooring in Plaistow, NH
Hardwood flooring has been a coveted and timeless flooring choice that has maintained its popularity among New England homeowners for decades. At Ed's Flooring America, we take pride in offering a wide selection of both solid wood flooring and engineered wood flooring, along with professional hardwood flooring installations. Our dedicated design experts are committed to helping you find the perfect hardwood floors to complement your lifestyle and budget. We invite you to visit our Plaistow, NH, showroom, meet our friendly staff, and explore our exquisite wood flooring products!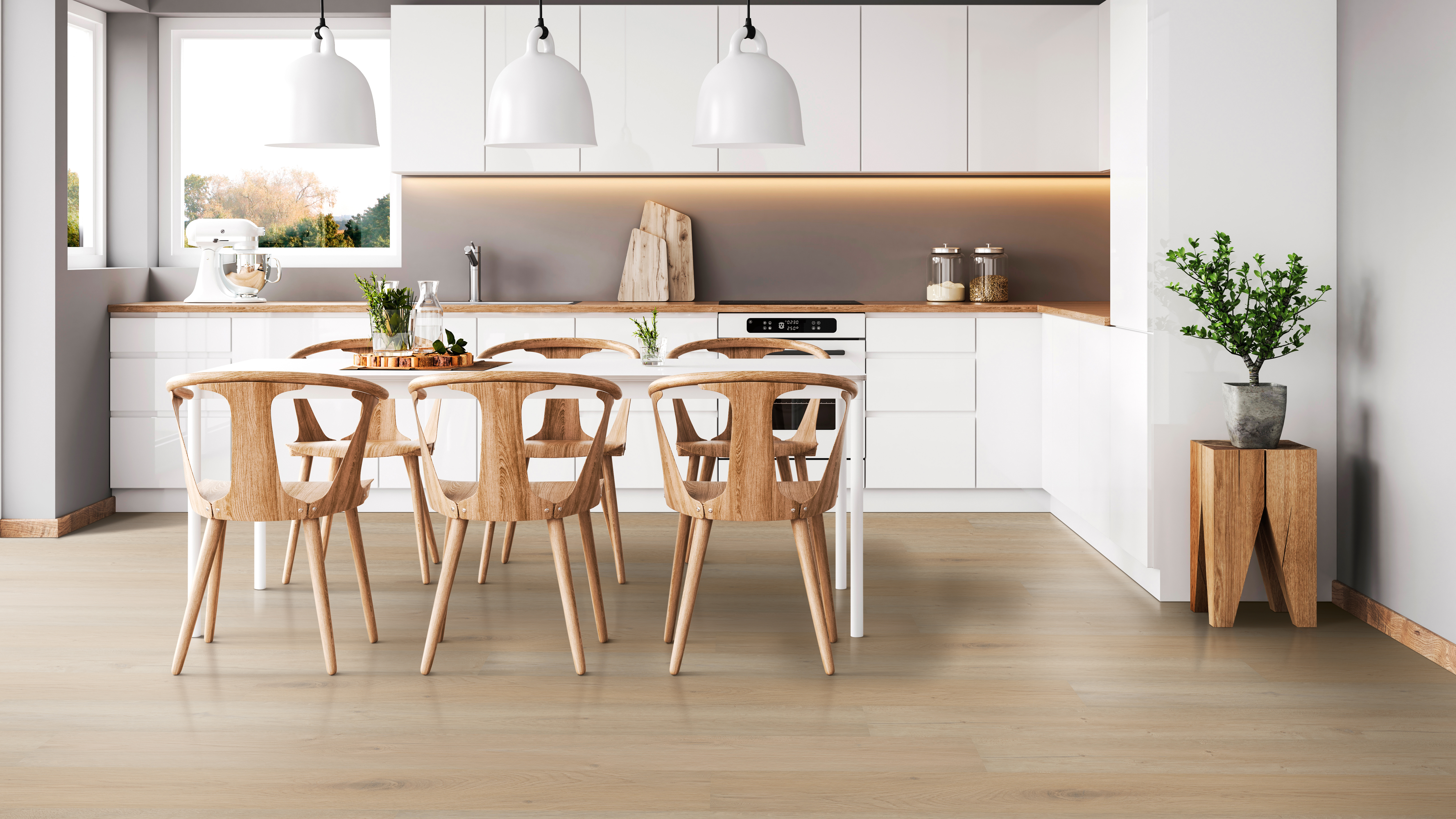 Understanding the Difference Between Solid and Engineered Hardwood
Modern flooring technology presents you with two primary options: engineered and traditional hardwood. Both engineered and solid hardwood choices come in a variety of botanical tree species, including Acacia, Maple, Mahogany, Hickory, Ash, Oak, Walnut, Birch, Pine, and more.
Solid Wood Flooring:
Traditional hardwood is crafted entirely from solid wood planks, offering various cuts, sizes, species, tones, grain patterns, and finishes. Not only does solid wood flooring exude exceptional beauty, but it also boasts remarkable durability, making it perfect for high-traffic areas. With its long-lasting appeal, it fulfills the dreams of homeowners seeking a touch of class in their living spaces.
Engineered Wood Flooring:
Engineered hardwood is constructed by bonding cross-cut planks, forming a robust surface with a top veneer of real hardwood. This design enhances the stability of the planks and protects them from warping or expanding, making them ideal for humid environments. Given New Hampshire's significant variation in moisture levels throughout the four seasons, engineered wood flooring has become a popular choice among Plaistow customers. Moreover, you can confidently install engineered wood floors in bathrooms and kitchens, as they can withstand the heavy wear and moisture of these areas.
The Benefits of Choosing Hardwood Flooring for Your New Hampshire Home
At Ed's Flooring America, we strive to help our customers save money on hardwood flooring from the industry's top brands. Leveraging our purchasing power through our affiliation with Flooring America, we pass on these benefits to you, ensuring you can stick to your budget without compromising on the quality of your hardwood floors. With an extensive selection to choose from, you can find the perfect match for your needs among our hardwood flooring items, sourced from trusted hardwood flooring manufacturers like Shaw, Mohawk, BSL, Main Traditions, and more. Here are some of the advantages hardwood flooring offers to our New Hampshire customers:
Increased Property Value: Hardwood flooring adds significant value to your home, making it a wise investment for the future.
Timeless Elegance: The classic and sophisticated look of hardwood never goes out of style, ensuring your home remains stylish and appealing for years to come.
Enhanced Durability: With remarkable sturdiness, hardwood floors are well-suited for high-traffic areas, standing up to the wear and tear of daily life.
Longevity: Properly maintained hardwood floors can last for generations, making them a cost-effective long-term flooring solution.
Easy Hardwood Flooring Maintenance & Care
Apart from their natural beauty and long-term investment potential, one of the most appealing aspects of hardwood floors is their hassle-free upkeep. With regular vacuuming and sweeping, your floors will retain their pristine appearance for years to come. For occasional maintenance, simply mop the hardwood floors with a warranty-certified cleaner and a damp mop. If you are unsure about the best care for your specific floors, our friendly flooring specialists are here to answer all your questions! Remember to always ask a professional before using any harsh chemicals, as they may damage the finish on your flooring.
For areas prone to moisture, such as bathrooms and kitchens, our exclusive water-resistant engineered wood flooring products are an excellent choice. Featuring a water-resistant sealant, these hardwood floors are kid-proof and pet-proof, making them perfect for busy households. This way, you get the best of both worry-free maintenance and stunning hardwood floors!
Expert Hardwood Flooring Installations Near You
When the time comes to install your brand-new hardwood floors, trust our skilled installers at Ed's Flooring America to get the job done seamlessly. Our team of experts brings in-depth product knowledge and experience to ensure a fast and efficient installation process. Equipped with the right tools and resources, we guarantee a flawless outcome.
At Ed's Flooring America, your satisfaction is our ultimate goal. That's why we back each installation with our Ultimate Confidence Guarantee. If you encounter any issues, we will fix or replace your flooring at no additional cost. Rest assured that our team will get the installation job done right the first time, leaving you with stunning hardwood floors that elevate the beauty of your home.
Contact Ed's Flooring America Today!
Explore our stunning hardwood flooring collection and let our flooring experts guide you through the selection process. We are proud to serve Plaistow, Hampstead, and Kingston, NH, as well as Haverhill, MA, and the surrounding communities.
Contact us today to take the first step towards elevating your home with the timeless elegance of hardwood flooring. Your dream floors await!