Hardwood Flooring in Plaistow, NH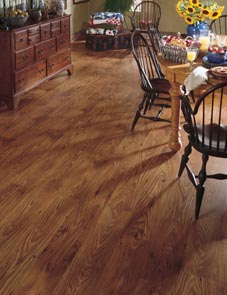 Hardwood is a coveted, classic flooring option that has remained popular with homeowners for decades. It's safe to say that almost everyone loves the look of hardwood flooring, but many aren't able to afford the cost of the high-end materials. Our
Hardwood is a coveted, classic flooring option that has maintained its popularity with homeowners for decades. It's safe to say that almost everyone loves the look of a hardwood floor, but everyone can't always afford the cost of such high-end materials. Our flooring company is committed to helping clients find attractive floors that satisfy in all respects, including price.
By utilizing the buying power that comes with our association with Flooring America, we help customers save on hardwood flooring that has been manufactured by many of the industry's leading brands. These savings are passed on to deserving clients like you, allowing you to remain within your projected budget.
Our selection of reasonably-priced products includes solid wood, engineered wood, unfinished wood, and much more. Once you have selected the right stain and grain for your particular home, we support you after the sale with reliable hardwood floor installation in Plaistow, NH. When you combine the deep savings you will experience on the flooring of your dreams, and the streamlined approach to installing them that we provide, you'll be hard-pressed to find a better deal on new flooring anywhere else in the area.
Selecting the Perfect Wood Floors
Shopping for new flooring can be a challenging and time-consuming process. This is why many homeowners postpone the process of replacing their aging flooring until it becomes an absolute necessity. Our passion for flooring and home improvement makes the process of selecting and installing hardwood floors both easy and enjoyable for all of our customers.
By taking the time to understand your specific budgetary limitations and your personal approach to interior design, our flooring professionals can quickly identify a series of options that fit your needs. We understand that everyone has differing expectations when it comes to purchasing home flooring, so we make a point to provide you with personable representatives that know flooring better than anyone. You can depend on us to address all of your questions and concerns while you peruse the stunning hardwood floor options we offer every day.
From the point you make a selection, to the moment your hardwood flooring installation is complete, we are here to provide you with the responsive attention to detail you deserve. We focus on your satisfaction, because we want to become your source for flooring in the coming years. You get durable and dazzling wood floors at low prices and efficient installation according to your terms. When you consider the serious investment you are making in your home, it just makes sense to work with a group of professionals that have a passion for home flooring.
A Complete Inventory of Engineered Hardwood & Solid Hardwood
Modern manufacturing advances have resulted in a broad array of durable and beautiful hardwood flooring options that accentuate any design plan you have in mind. While you may be concerned about placing hardwood in your busy household, you can rest easy knowing that with proper care, your new flooring will continue to look fabulous far into the future. Many of the wood floors that we carry at our store can also be refinished at a later time, significantly extending the lifespan of your floors. Based on the desired price range and look you want, we may recommend one of the following popular hardwood styles:
Engineered Hardwood – This product is crafted from thin layers of wood that are stacked together, pressed, and bonded together. This provides the planks with enhanced flexibility and it prevents warping and expanding, making them ideal for humid climates. The top layer of each flooring plank is real wood, providing the natural look and texture you desire. Available in a range of different stains, grains, and finishes, engineered planks deliver the ideal look and authentic feel needed for any interior design.
Solid Hardwood – As the name suggests, traditional solid planks are made from a single piece of solid wood. You can choose prefinished options with the ideal stain and finish, as well as unfinished wood floors that are customizable after installation.
Whether you already know the type of floor that is best for your home, or you need an informed suggestion for a particular product, our flooring experts are here to answer any question you may have. We take into account where you are planning to place the new floors, as well as the level of wear and tear you expect the floors to sustain on a daily basis. If you live an active life in a home with kids that are always on the go, you need a strong floor that looks great without an intensive amount of care.
Unfinished Hardwood Flooring Also Available
Unlike traditional wood planks, our unfinished hardwood is not stained, scraped, or finished before placement. The unfinished materials we offer are available in a wide range of popular wood species. Each of these species comes in different plank sizes, and the natural and original grains give your home a unique look unlike any other in your neighborhood.
Once the unfinished planks are installed, we can even scrape the wood to create a rustic and charming look. The staining is completed on-site, allowing us to deliver the custom hue you desire. From glossy lacquers to flat finishes, we guarantee to produce the finished hardwood floor you've always dreamed of.
Enjoy long-lasting and beautiful floors by relying on our experienced floor installers. We complete installation jobs of every size in a timely manner. Our professionals strive to accommodate customers in every way. You can trust us to arrive on time and treat you and your home with the utmost respect. We work quickly, because we have the experience and the necessary equipment to perform a swift, flawless installation job. After the job is finished, we make sure to clean up any leftover mess from the wood flooring installation.
Every installation project that we complete is backed by our Ultimate Guarantee. In the unlikely event that you are unhappy with some aspect of your new 4- or 5-Star rated flooring within 30 days of the initial installation for any reason, we will replace it with a similar product at no additional cost to you.

Contact us today for flooring at affordable prices and efficient hardwood floor installation. We proudly serve customers in Plaistow, Atkinson, Hampstead, Kingston, and Danville, New Hampshire.