You have decided to install new carpeting in your home. But, what comes next? There are so many options and products to sort through in every color and style imaginable. While versatility is a good thing, it can also become overwhelming. At Ed's Flooring America in Hooksett, we want to help breakdown your carpet options to help you find the best for your home. One carpet trend that we have seen rise in popularity is waterproof carpeting.
What Makes A Carpet Waterproof?
We are your local flooring retailer, which means we understand the challenges your carpet faces day in and day out. Sometimes it can be daunting trying to find a carpet that can handle it all. You're in luck, however, when you shop with us. The new generation of carpet we offer provides durability, lasting comfort, and style. Waterproof carpet can handle the crazy days, snow days, and go-play-outside days. When living in a New England climate, it is important to have a carpet that is not only warm but also durable.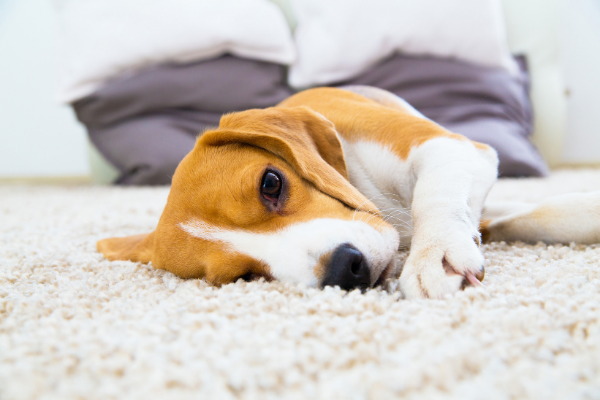 Waterproof carpet looks like any other carpet, except it features technology that most normal carpets do not. Sometimes Many just assume that water-resistant carpet is the same as waterproof carpet, but there are some important differences. A major difference is that waterproof carpets come with a protective backing that prevents moisture from reaching the subfloor underneath, and water-resistant carpets do not have this backing. The waterproof backing system protects your carpet padding and subfloor from spills or accidents you may have missed.
Not all waterproof carpets are made the same, which means they all have different features and characteristics. Spills will stay on the surface of the carpet, making them easier to clean. If your pet has an accident, the waterproof backing will help to prevent the pet odor from soaking into your subfloor. Other common features include fibers that are resistant to crushing and visible wear, offering peace-of-mind when it comes to keeping liquids from seeping into the fiber.
Carpet is mostly installed in low traffic areas including bedrooms and living rooms. When you install a waterproof carpet, you are no longer limited to certain levels of your home. You can install waterproof carpeting in high traffic areas like stairs and hallways, and better yet, you can install waterproof carpeting in your finished basement! You can enjoy the comfort of carpet without being worried about accidents or moisture ruining your floors.
You can live comfortably on your carpets knowing accidental spills and messes won't be the end of your beautiful flooring. Give us a call today or come and see our products!