Ceramic Tile in Plaistow, NH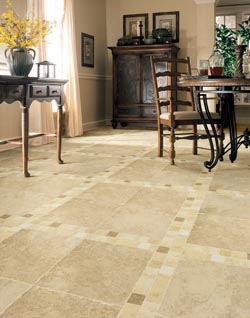 Stylish, durable, and versatile, ceramic tile flooring is the ideal choice for many home and business owners. Whether you want tile in your kitchen, bathroom, or throughout your entire property, you'll find an endless array of ceramic tile selections at our flooring store. An excellent alternative to hardwood and carpeting, this sensible flooring product adds cool beauty and aesthetic appeal to any room. Some of the other advantages of ceramic floor tile include:
Long-lasting quality
Moisture resistant
Fire resistant
Easy maintenance
Resistant to scratches & tread wear
Frost resistant
Stain resistant
Color permanence
Hygienic
Don't limit yourself when you want flooring in your home. With choices like mosaic tile and ceramic woodgrain tile, our showroom has the options you want to complete your remodeling projects. If you decide to install ceramic tile, your options are unlimited. Not only do we offer the best products at our showroom, we have access to many more selections because we belong to the national Flooring America network. Whatever the style, shape, or size, we'll help you find the perfect flooring product to match your preferences.
Ceramic floor tiles last a lifetime without the need to replace them. In fact, ceramic tiles have even been found in the pyramids and ancient ruins of Greek cities. For a classic yet beautiful look, you simply cannot go wrong when you come to us for this kind of flooring. Longevity and elegance can be found in one selection. Make your interior withstand the test of time with our expansive collections.
Why Install Ceramic Floor Tiles?
One of the most dramatic ways to change the look and feel of your home is to install ceramic floor tile. From ceramic tiles that look like natural stone to ornately designed tiles, our products come in a variety of different appearances: smooth, textured, glazed, unglazed, polished, and unpolished. Choose a classy look or one that is more modern. Whatever you want, you can depend on our friendly and knowledgeable sales team to help you find your tile of choice. We carry ceramic flooring products from many major manufacturers, including:
HomeCraft™
Star Values™
Hearth & Home™
Floorcraft™
American Olean™
Terra del Sol™
Design Distinctions™
SelectAFloor™
Bellisima Tile™
Dal-Tile™
Ceramic has been widely respected for it durability and beauty. Its dense composition allows for a resilient surface that withstands the effects of scrapes and impacts. In fact, this same density is able to resist spills and staining with ease. Protective glazes and finishes add additional beauty and waterproofing for a tough, yet refined, surface. This makes ceramic floor tile a popular choice for bathrooms, kitchens, and other high-traffic areas. Patio areas look livelier when you opt for ceramic.
Ceramic Options For Any Application
Looking for an artistic look that upgrades the strength of your walls and flooring? Consider mosaic tile. Inspired by the classic artistic medium from antiquity, mosaic tile incorporates smaller ceramic pieces to create stunning patterns and shapes. The slight variations in color and texture ensure a unique interior, which is a wonderful complement for kitchens and bathrooms.
Bring the beauty of Nature directly to your property with ceramic woodgrain tile. Thanks to contemporary manufacturing and design procedures, the look and texture of many popular hardwood species can be successfully recreated on ceramic – right down to the plank shape and grain patterns. The time-tested strength and waterproofing of ceramic allows you to expand your design options into your kitchen, bathroom, or patio. With ceramic woodgrain options available in pine, cherry, and oak, you can craft the interior you want.
Many homeowners count on ceramic flooring as a smart investment for property longevity and value. As such, we have adapted our services to accommodate ceramic bathroom tile design services. Our flooring representatives are well-versed in a variety of flooring types, and we stay up-to-date with the latest trends in the industry. Simply put, visiting our showroom empowers you with the latest knowledge so you can start your next remodeling project on the right track.
When you choose ceramic bathroom or kitchen tile, you do more than strengthen your interior. You also have the opportunity to make it your own work of art. Ceramic tile may be cut in different shapes and sizes. In addition, designs and colors may be coordinated to create stunning and unique designs. When you work with our sales representatives, you are able to invest in your own creations. Explore your options and begin crafting a kitchen or bathroom that gives your home a personality.
Special Guarantees on Ceramic Tile Installation
Not many flooring stores provide ceramic tile installation as well as guarantee the quality of their services. We do both! After you have made your flooring choice, simply allow our highly experienced installers to lay your tile. From measuring the floor space and removing your old flooring to installing the new ceramic floor, we do it all.
Most importantly, we do it right! We are so confident you'll be pleased with the finished product that we back select flooring with the Ultimate Confidence Guarantee. If you're not happy with your new 4-Star or 5-Star floor within 30 days after installation, our team will replace it with a floor of equal value. In addition, if you have any installation-related issue for the life of your floor, we'll make it right at our expense.

Contact us to speak with one of our friendly sales agents about your upcoming flooring project. We proudly serve the communities of Plaistow, Haverhill MA, Atkinson, Hampstead, Kingston, Danville, Newton, Salem, and Windham, New Hampshire.