Design Trends and Inspiration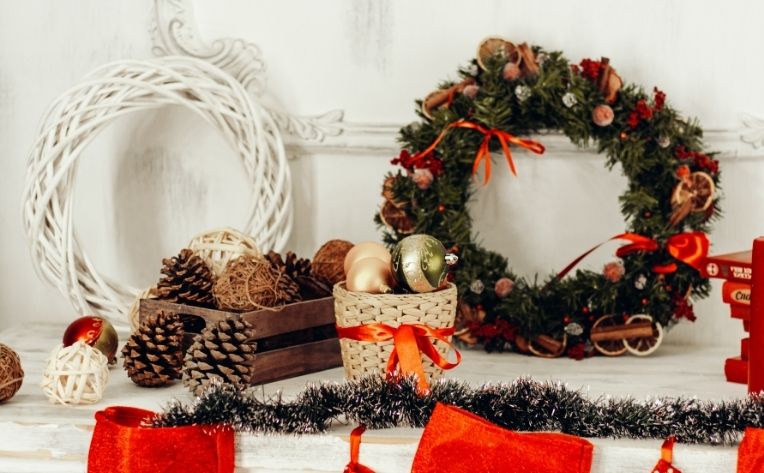 Nov 11, 2020
Winter is the season we often associate with spending more time at home and inside… which makes it a great opportunity to rethink your interior design ideas! Whether you're looking for small design tweaks to add a hint of coziness and holiday warmth to your house, or you're inspired to take on a bigger project to liven up your home for the coming months, winter is the perfect chance for you to spruce up your surroundings.
Winter Greenery
Let's face it: winter can be a little dreary at times. Thankfully, plants and pops of greenery in your home can go a long way to adding a sense of liveliness to your surroundings. Whether you tend to lean toward creating a wintry tablespace with traditional pinecones and fir, or prefer to have plenty of tropical-like plants around your living room to keep you in a sunnier vibe, there are many ways to freshen up your home with enlivening (and mood-lifting) greenery.

Modern Metallic Colors
Though bright holiday colors have their time and place in every home, a trend popping up on everyone's radar this season is rooms decorated in modern metallic colors. Think hues of silver, copper, charcoal, and bronze adding an elegant bit of lightness to your living areas—and to the darker winter days.

Beautiful Rugs
Cozy is always a design theme one can get onboard with during winter, and beautiful rugs and carpets are the perfect solution for when the need to nest kicks in. A new plush carpet can be the ideal place to curl up with the dog—or a good book. And, of course, hardwood floors are always an elegant look, too, especially with beautiful, different-sized carpets spread across. Your feet will stay warm, and, bonus—the house will look cozy and stylish.

Marvelous Mantelpieces
If you're lucky enough to have a fireplace or mantelpiece in your home, it can be a wonderful place to center your winter design ideas around. You can use your fireplace or mantelpiece as the focal point of the room, displaying cards, switching in a piece of more seasonally focused art, adding a row of tea lights … the possibilities are endless. And speaking of decorating mantelpieces…

Candle Mania
Who can forget about candles? During the winter season, a group of inviting candles are a great addition to almost any room in your home. Whether you decide you want to go full-throttle on the seasonal themed scents—or maybe you prefer the more subtle, unscented candle route—a smattering of lit candles spread throughout your house adds a warm and cozy vibe to any room you happen to place them in.

Winter 2020 Interior Design Trends... For You?
This winter, it's all about brightening your rooms (and mood!), and getting cozy and festive while you stay inside. Flooring America is here for it all, keeping you and your family up to date with the latest interior design trends. So give us a call today to talk about all of our options for carpet, hardwood, luxury vinyl, laminate, and more. Your newly spruced up home is waiting!
Continue Reading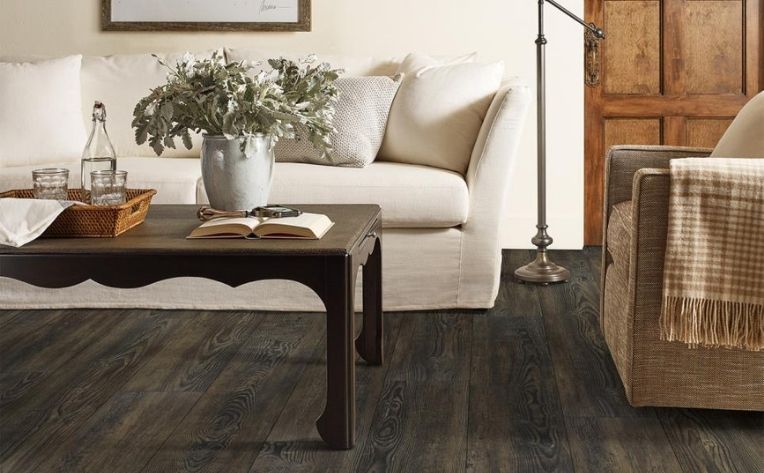 Nov 04, 2020
In these hectic times we're living in, a low-maintenance home—including your floors—can be the key to having peace of mind. Let's be honest: everyone's pretty busy, and spending a couple of hours vacuuming and sweeping up are not high on most people's to-do lists. Thankfully, when it comes to floors, there are plenty of stylish low-maintenance options out there.
The Look of Hardwood, with Ease
Beautiful hardwood floors are a design dream for many homeowners, but the cost and maintenance can be a serious headache. That's where Luxury Vinyl Tile (LVT) comes in. LVT floors can mimic the look of real wood floors (as well as stone and ceramic!) but are much more durable—not to mention more affordable and easier to clean. Then there's the relief of not constantly worrying about scratches from furniture. Or kids. Or pets. Floors that mimic the colors and textures of real wood or stone, without all the headaches? Sounds easy indeed.

Hardwood Really Isn't That Difficult
Beautiful hardwood floors are still a nice low-maintenance option if you feel they're the floors for you. As long as there's an expert to install, hardwood floors remain not only a stunning flooring choice but also timeless (when it comes to resale value), and, all in all, they're durable for years to come.

Not Your Grandma's Carpet
Because of the occasional need for vacuuming, carpet is sometimes considered a slightly more high-maintenance flooring option. And while this can be somewhat true, modern carpets have come a long way. For instance, many carpets today are treated with static-, stain-, and soil-resistant products, which allow for far easier cleanup. Now a spilled drink—or a pet's accident—is suddenly a lot less stressful. Plus, the non-slip surface of carpets makes them ideal for safety—both for toddlers prone to the occasional fall, or the occasional dropped item. And, speaking of less stress, carpet can be one of the most low-cost flooring choices overall.

Time-Tested Tile
And, of course, tile can be a great pick for low-maintenance flooring, too. There's a reason it's so often used in kitchens and bathrooms (hello, water sloshing over the tub). Whether it's waterproof stone tiles in the kitchen that are easy to clean and maintain, or unglazed and stone tile in areas of your home that are likely to get the most high-foot traffic, tile always stands the test of time. And moisture. And dogs.

What's the Best Low-Maintenance Flooring for You?
With so many low-maintenance flooring styles, there's bound to be one that fits into your vision for a more manageable home. Call your local Flooring America today to talk to us about all of our options for tile, carpet, hardwood, and luxury vinyl. Your peace of mind—and a more peaceful flooring plan—awaits.
Continue Reading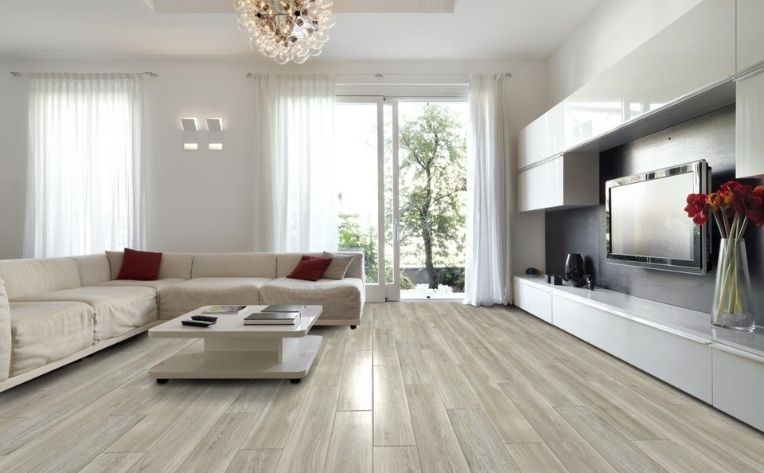 Oct 28, 2020
If you love the look of solid hardwood, we'll let you in on a little secret: you can get that look for about a fraction of the cost. Turns out, there are a few wood-look flooring choices that are affordable, easy to install, minimal in maintenance, and super stylish. So, if you're looking for a hardwood that fits any of those descriptions, let's walk through five wood-look options to give your home the style and functionality it deserves.
Wood-Look Laminate
Laminate is one of the most cost-effective alternatives to hardwood. And thanks to its clear protective coating, it's highly durable. Many laminate manufacturers have developed their styles to have similar hardwood looks and grain patterns—giving you the exact aesthetic you need for much less out of pocket.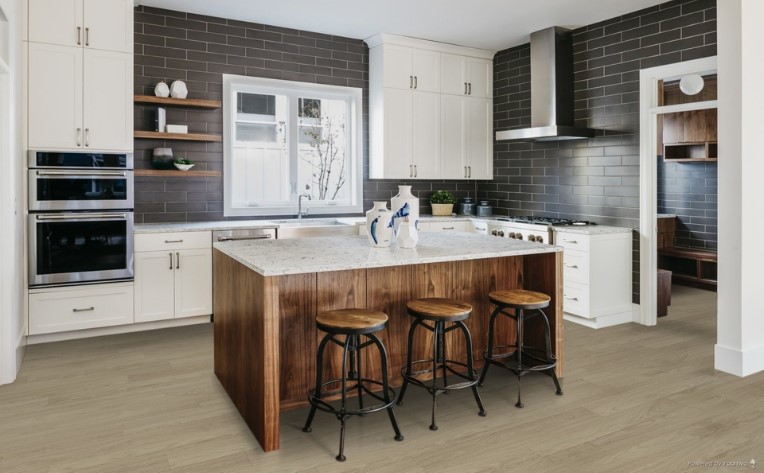 Engineered Hardwood
Engineered hardwood planks are much more durable than hardwood floors. Its top hardwood layer gives you a classic, natural look, coming in a variety of styles—whether you love hickory, oak, or a contemporary gray. Its bottom layers consist of bonded ply to set a strong base structure. This core prevents it from expanding with high temperatures and moisture, and gives your home the durability it needs, even in the most high-traffic areas.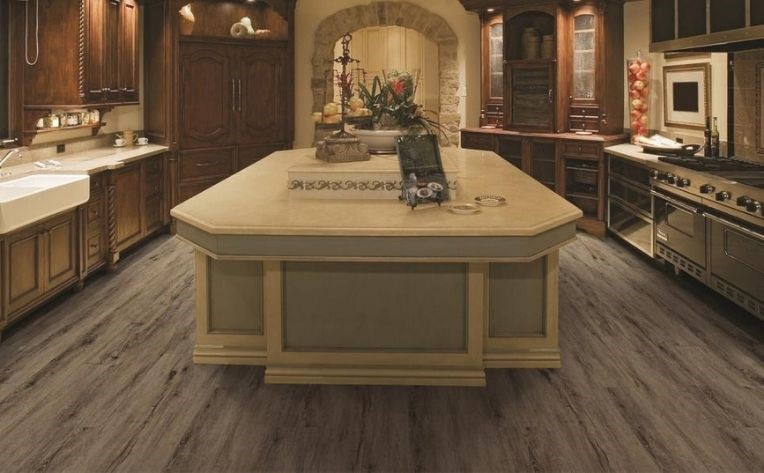 Wood-Look Tile
It's true. Now you can get the look of hardwood plus the functionality of tile. Perfect for bathrooms and kitchens, wood-look tile allows you to keep your hardwood styles consistent throughout your home, even in areas prone to spills. Tile is resistant to water, heat, and humidity, making it a great stain-resistant option. Plus, it's durable, inexpensive, and easy to install.
Luxury Vinyl
Luxury vinyl is an increasingly popular hardwood alternative. Its ultra-realistic top layer is printed to display real hardwood and is covered by a clear, protective layer above. Some manufacturers offer luxury vinyl with a textured wear layer that mimics the look of wood grain to make it even more realistic. Luxury vinyl is highly durable and affordable, making it one of the most popular wood-look alternatives out there.
Waterproof Hardwood
Waterproof hardwood is the newest technology in hardwood flooring. It has a genuine hardwood veneer over a luxury vinyl core. The veneer is protected with a clear melamine layer that makes this product completely waterproof. It's perfect for those high moisture areas that traditional solid hardwood is not recommended for.

Looks like wood. Performs like nothing else.
Interested in exploring hardwood alternatives? Then give us a call. Flooring America's wide selection of hardwood, tile, laminate, and luxury vinyl will help you find the perfect style and level of durability needed for your home, so you can enjoy all the benefits of hardwood, plus performance like nothing else.
Continue Reading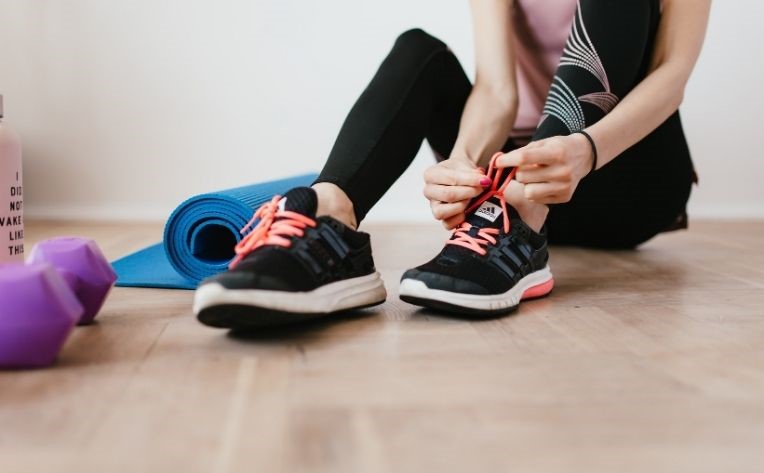 Oct 26, 2020
A home gym is an investment—in yourself, and your home. If you're ready to dedicate a space in your house to achieve your personal health goals, you need a floor that can help you get there. There are quite a few factors that go into selecting those floors, such as comfort, durability, and, most important, practicality. Check out the strongest contenders for your home gym floors that'll help you on your journey to getting stronger, too.

Rubber
Our most versatile flooring select is rubber. Rubber has great traction to prevent slips or falls, plus it's sturdy and resilient, making it ideal for any type of exercise equipment. Dropping weights on it is no problem, as impact absorption is extremely high with rubber flooring. It's stain-resistant, easy to clean, and easy to install. Just lay it right over your current floor. Rubber is a quick, easy, budget-friendly flooring option for your home gym that will allow you to focus on you and your health, rather than your floors.

Luxury Vinyl
If you're looking to turn your home gym into more of a multipurpose space, luxury vinyl is the most practical choice. It's highly durable, so it can withstand the abuse of a home gym. But, it comes in a variety of different designs, so it can still be comfortable and stylish in any room. Plus, it's mold, mildew, and moisture-resistant, so it can handle even the most sweaty workout sessions. Which brings us to cleaning. Luxury vinyl can also stand up to harsh chemicals, making it easy to clean and maintain. Luxury vinyl comes in wood-or-tile looks, and you'll find a variety of styles to match your design preferences.
Carpet
Perfect for weights, cardio, yoga, and more, carpet is the most popular flooring selection for a home gym. It's soft on the joints and easy to maintain. Typically, the best carpet for this type of space is a tight loop such as a berber carpet. As with any carpet, regular cleaning is recommended after a few sweat sessions to prevent from bacteria and odors. And, if you're looking for an even easier carpet solution, check out carpet tiles. You can install them yourself and still get the same great quality and durability as you would with a roll of carpet. Plus, carpet tiles are easily replaced, so, after one too many sit-ups in a single area, you can swap out specific tiles to keep the room feeling fresh and new.
Strong Floors for Your Home Gym
Whether it's strength training, yoga, cardio, or HIIT, there's a flooring option for every home gym. Call your local Flooring America today and talk to us about luxury vinyl or carpet, and our experts will direct you to our best selection of floors perfect for the blood, sweat, and tears you put in (hopefully just sweat, though). Your journey to becoming stronger starts with strong floors. So, what are you waiting for? Get started today.
Continue Reading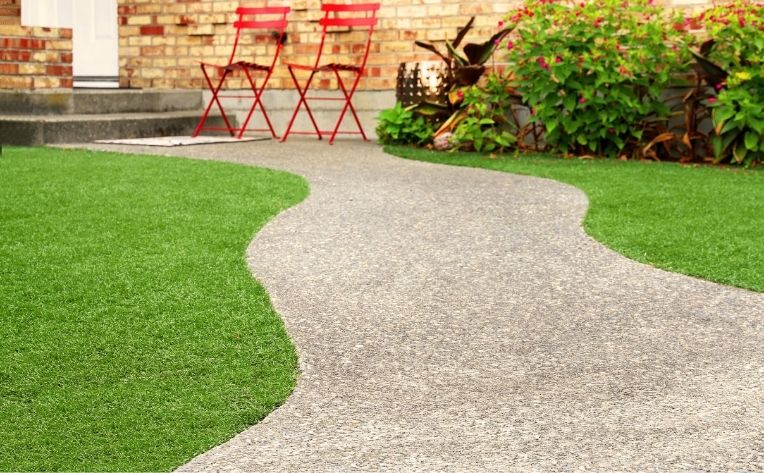 Oct 23, 2020
Obsessed with your lawn? Frustrated it won't stay green? We have the key to the ideal outdoor oasis: turf. It's a great way to enhance your backyard and patio, or even decks and balconies. Check out some of the ways we've been loving turf this season, and maybe you'll find some outdoor inspiration along the way.
All turf. All the way.
Homeowners everywhere are taking advantage of the evergreen qualities of turf landscaping. With turf, having a flawless lawn is simple. No more trips to the garden center, no more aerating, and, our favorite, no more lawn mowing. Just lay down the color and style of turf you like, and your lawn stays perfect all year long. It's great for kids and pets to play on, and for you to entertain, no matter the occasion.
Beyond the Lawn
Even if you're not looking to replace your entire lawn with turf landscaping, turf can play a huge role in outdoor entertainment spaces. Many homeowners have taken advantage of turf for walkways. It adds a distinctive element to flower and vegetable garden paths, replacing stepping stones. Others have chosen to cover their concrete patios or pathways to give their space a bright, green look. And even if you don't want to cover your patio (or balcony!) completely in turf, it adds a striking accent below seating areas or outdoor dining tables to create a more inviting dynamic.

Recreational Areas
Backyard pickup game? No problem. Turf is the choice for active families looking to open up a space to use strictly for sports. As with most professional teams, turf is the preferred playing surface. It drains quickly and needs only minimal maintenance to remain in good condition, all year round, no matter the activity. Another plus to turf landscaping is that it never requires potentially toxic lawn care chemicals and never produces pollen. So, it's a nice, safe option for the entire family to enjoy.
Putting Practice
Calling all golf lovers. Turf has been growing in popularity for golfers to get some at-home practice. No matter the size, it's easy to cut the right putting green for you. You can also take advantage of your yard's natural slope or undulations to make your green more challenging. We've even seen some homeowners build small water features or add various grass styles to simulate fairway conditions. Any way you slice it, turf will both beautify your lawn and help you improve your golf game.

Ready to Accessorize
Because turf is so vibrant and consistent in color, many homeowners are choosing to accent turf with outdoor furniture. Whether it's the benches of a picnic table, the cushions of an outdoor lounge area, or even an outdoor throw pillow, turf is the perfect backdrop (ground-drop?) for outdoor accents.
The Grass Is Always Greener with Turf
Love a green lawn? Love it all year round with turf. Call your local Flooring America today, and we'll have our experts ready to talk everything outdoors to make your space the best it can be.
Continue Reading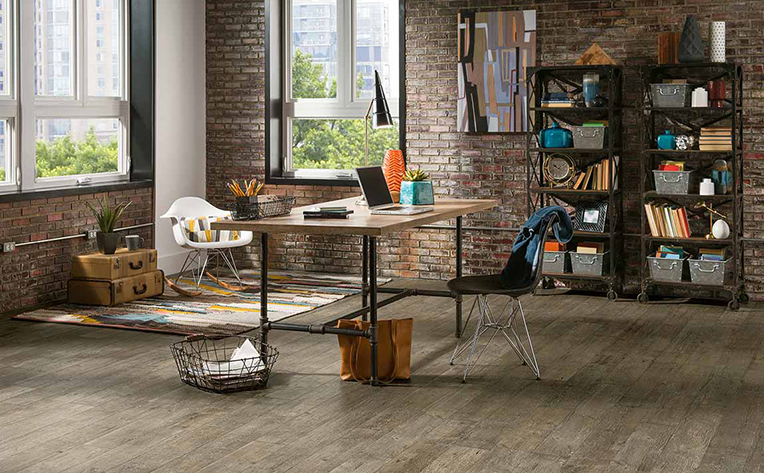 Oct 07, 2020
You've been working from home for a while now. And, well, it's looking like work-from-home may be the new norm. But, with a little love, your home office can still feel like a destination. And every great home office starts with even better floors, so no matter the kind of work you're doing from home, we've gathered our favorite WFH floors to help keep your creativity high and your stress low.
Hardwood
Hardwood is a classic. It's sleek and sophisticated yet also warm and inviting. Add a bold area rug or let the floors shine alone. Either way, your office will be the clean, calming space you need to settle in and get stuff done. With hardwood, you'll impress your guests and your business partners (no more virtual backgrounds!), and you'll be feeling like the CEO of your home in no time.

Tile
Perfect for rolling chairs, working lunches, and coffee spills: tile. Tile is great for the home office as it's durable and water-resistant, making it an ideal option for frequently used rooms. With tile, you can enjoy a variety of styles and colors. You can even choose tile that looks like hardwood. No matter your vision, tile gets it done. Plus, if you think the kids and pets will be in and out of your office as well, tile just might be your saving grace.

Carpet
When work gets stressful, seek comfort in carpet. Choose from a variety of colors and textures to really make your home office a space that suits you. Even better, it's comfy underfoot—no need for slippers. Plus, if you're more into the standing-desk style, what better way to enjoy your workday than with cushy carpet under your feet. You can also find waterproof carpet to ensure that it stays clean for years to come.

Luxury Vinyl
If you're interested in the look of wood or tile with a low renovation budget, then say hello to luxury vinyl. It's highly durable, water resistant, and softer underfoot compared to tile and hardwood. Plus, it looks amazing in any room, no matter which style you choose. Spruce it up with a rug and some bold furniture, and your home office will be the perfect space to settle in and stay productive throughout the day.

A Home Office That Works for You
It's time to take on that extra room in your house and turn it into your productivity hub, and Flooring America is ready to help. Call your local Flooring America today and talk to us about our selection of hardwood, tile, carpet, and luxury vinyl. We'll do the work to make it a great office, so you can stay focused on your work, all day long.
Continue Reading